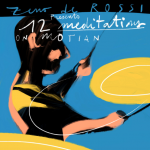 "12 Meditations on Motian" is a project by the drummer Zeno De Rossi.
It's made of 12 duos with 12 among the most interesting italian guitarists. They come with 12 original illustrations by the artist Francesco Chiacchio.
Francesca Naibo (classical guitar) and Zeno De Rossi mix their sounds in "Sod House".